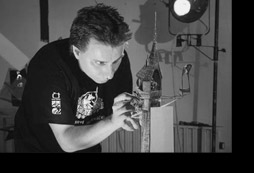 Cyril Podolský was born in Frýdlant v Čechách, small town in the mountains of North Bohemia. Mr.Podolský completed his high school degree at the gymnasium in Liberec where he also worked as an on-stage technician in the Naive theatre. He continued his studies at the University of Hradec Králové where he studied Czech language and creative arts. In the year 1999 he successfully completed his University degree in film animation at the Film school in Zlín where he also for several years professed puppet film animation.
Mr.Podolský worked for over 13 years in Film Ateliers Zlin as an animator, screenwriter and director. As an animator he was participating on the Czech TV series "Králíci z klobouku", "Pat a Mat" and "Tlučhořovi". His latest and also greatest work was the TV series Krysáci(The Ratmen) where was his talent demonstrated very clearly - he contributed as a director, screenwriter and animator in one person.
At the turn of the year 2009 is Mr.Podolsky and his family moving back to his born town Frýdlant, where is, together with his friends, founding the brand new atelier of an animated, puppet and trick film - Atelier Podolský. This is historically the first time when the puppet film production puts its' roots out in the North of Bohemia.